Real Estate in Sicily
Who hasn't dreamt of it – your own place in the sunny south of Europe…

…with a sea view, of course!

…surrounded by a Mediterranean garden with a roomy terrace, pool – why not a private access to the sea?

And yes, these are available here. But let's talk straight: if you don't get very lucky it won't come cheap. So read on to find our best local advice on how savvy bargain hunters can make that Sicilian dream come true without breaking the bank.
Solemar Sicilia's Top Tips for Smart Real Estate Investment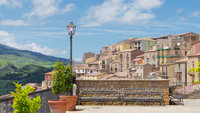 Sicily – Houses for a Euro
For many generations, Sicily has been a land of emigrants. Especially in small towns, away from the big cities, more and more properties lie unoccupied. Sicilian towns like Gangi and Sambuca kick-started a boom in '€1 homes' promotions which attracted publicity and spawned numerous imitations. But of course these towns aren't simply giving things away. With a price that low there will always be some strings attached.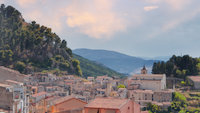 Villages in the Madonie
The Madonie is Sicily's second largest natural park. Despite the area's outstanding natural beauty there are also many villages here with declining populations. While they may not be running catchy promotions, the value of property here is outstanding. The northern Madonie is particularly interesting because of its proximity to the iconic seaside town of Cefalù, where you can find shops, international infrastructure and a large hospital.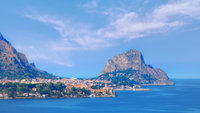 The Outskirts of Palermo
Want a peaceful village by the sea, but without straying too far from the city? You will find the stretch of coastline east of Palermo filled with opportunity. One particularly interesting town is Santa Flavia, with its large marina and harbour. The village's train station will bring you to the very centre of Palermo in less than 20 minutes.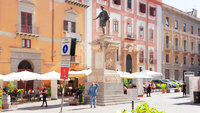 Palermo Itself!
Are you looking at Southern European real estate as an investment opportunity? Then Palermo is a real insider tip. Once Italy's notorious mafia stronghold, Palermo has now reinvented itself as a booming city in the sunny south, being crowned Italy's Capital of Culture in 2018. Especially in the historic old town, where modern art and ancient architecture attracts tourist crowds, a huge number of houses and 'palazzo' buildings are just crying out to be renovated.
Get Professional Support to Buy Property
Foreigners can very easily buy real estate in Southern Europe, especially if they hold EU passports. Even if that isn't you, don't be put off – there are numerous avenues to explore. But thanks to a complex legal history, buying property in Sicily can be a bureaucratic challenge. We can't emphasise enough the need for need an experienced local notary and the value of a real estate agency that is simultaneously rooted in Sicilian culture, operating internationally and speaking your language.
Frequently Asked Questions
I'm not Italian: Can I buy a house in Sicily?
All citizens of the European Union may purchase property freely in Sicily. Non EU-Citizens may need to jump through a few more logistical hoops but the Italian government is still keen to attract real estate investment from overseas. Obviously, Italian law will apply to all purchases here.
Is Sicily a good place for retirement?
Yes – You'll find Sicily a particularly good place to spend the winter. But it is not only the sun that attracts people, but also the cost of living. Markets are full, for example, of fresh fruit and vegetables at incredibly low prices.
Do I need an estate agent?
Yes. You will need an experienced notary and a certified estate agent, each of whom should be rooted in Sicily and – unless your Italian is completely fluent – speak your language. Italian real estate law is not for the amateur, especially when dealing with the transfer of ownership.
How do I find craftsmen I can trust?
The golden rule in Sicily is that 'it's not what you know, it's who you know'. If you have no family connections, any reputable local estate agent can help you. Find one you trust, and let them guide you. And a word of advice: don't play craftsmen off against each other over the price. In Sicily, good relations are far more valuable to you than a few percentage points off the price.
Is Sicily safe?
Very much so, and in fact it's getting safer by the year. Sicily fought a battle with the mafia for half a century: it was desperately hard, and claimed many victims. But they were not in vain: today Sicily is one of the safest places you can find.
Solemar Sicilia: Your Friends in the Real Estate Market