Moving independently in Sicily? – No problem!
Car rental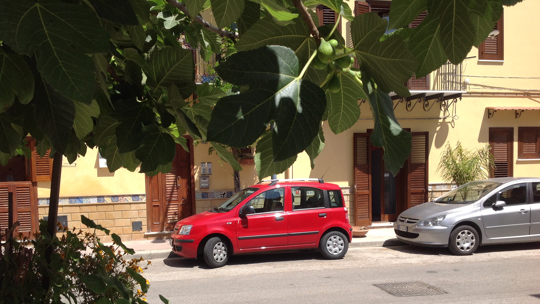 In order to be able to visit as many of the natural and artistic treasures as possible in Sicily, you should consider renting a car. We offer rental car fares for Solemar customers in cooperation with the company BilligerMietwagen.de. Just select pickup location, time period and vehicle category below and you will receive an offer! You can also book on their website right away:
Please keep in mind that you need a credit card, a valid identity card and, of course, a driver's license!
You can pick up your vehicle directly at the airport in Palermo, Trapani or Catania or pick it up at one of the city offices – e.g. also in Cefalù – and drop it off at another location.
Mietwagen Vergleich
Why do we advise you on this offer? The prices are very cheap; the booking easy and clear. The vehicles are usually brand new. Depending on your needs, special requests can be specified and you can immediately see what the final price will be! So, no surprises when it come to payment – the final price is fixed right from the start. This is not always the case with other brokers! If possible, choose the "Value for Performance" certificate offers! Here the following is included and our guests confirm this in retrospect:
Full insurance and car theft insurance! Please click "without own risk." Then, in the case of damage, damage to the glass, roof and tyres is also excluded of your own risk
Increase liability cover amount (min but € 1.0 million)
Unlimited kilometers
All local taxes
Airport provision and fees
Further important facts:
If you want to refrain from excluding the own risk, there are also cars starting at € 100.00/week
If you do not click on "car hire in the airport ," you can save a few euros, but then have to use a shuttle bus , maybe in a 7km distant village. Same for the drop off.
In the month of August and during the Easter holidays, the rental cars might be already fully booked and also significantly more expensive! You should act in advance
More information about airports and descriptions in how to reach Solemar on this page
Since the local agencies who work with billigermietwagen.de they are calculate very narrowly, their employees at the counter often have the instruction to "persuade" you to take additional insurances. " You absolutely don't need them! The exclusion of the own risk will be taken over bybilligermietwagen.de in the event of damage, provided that you have booked this in advance.
Motorcycle Rental
Finally, Palermo also has a motorcycle rental with normal road bikes, enduros and scooters – the freedom of a motorcycle journey. Sicily Moto Rent offers you and your friends the opportunity to get to know Sicily in an unforgettable way.
Depending on our interests, we put together both historical, scenic and gastronomic routes. SMR allows you to rent a motorcycle and the associated equipment from the comfort of your own home. From home, you can also plan a tour tailored to your interests. Sicily Moto Rent also compiles original routes and gives travel ideas to plan your own tour individually and to enjoy and discover Sicily in freedom.
All motorcycles are new, first-class and technically sound. We fully recommend this organizer. If you need more information, just write to us at info@solemar-sicilia.it. As with all motorcycle rentals, there is no full insurance, but there is always a deductible of € 1,450.00 in the case of theft, which has never happened to us before.
Bike Rental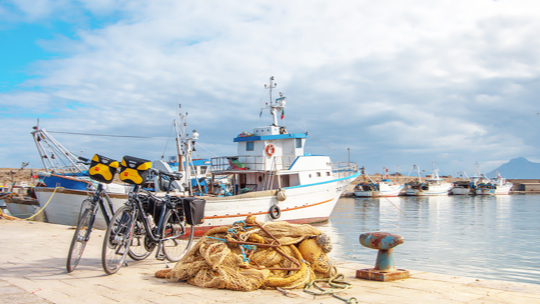 We would like to suggest that you also discover our beautiful Mediterranean island by bike. You don't necessarily have to bring your own, you can also rent a good touring bike from Solemar. The best tips on this topic for our guests in Santa Flavia and Mongerbino can be found on this page. If you are interested in guided mountain bike tours or special racing and mountain bike rentals, you will certainly find good offers on the internet.
We are happy to help you organise your personal tour.
Talking about renting a bike, it is more likely to approach guests who want to stay in Santa Flavia and "hike" the area with a comfortable, safe and new bike. It is important that we offer our guests not only apartments and bikes in Santa Flavia, but also a secure carport. Please book in advance!
The weekly rent of a very good mountain bike incl. Saddlebags is € 50,00 per bike – deposit € 100
The weekly rent of an e Bike is € 60,00 – per day the rent is € 12,50 – deposit € 150
Ihr Ansprechpartner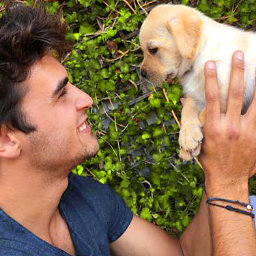 Fabian Gruessner
Tel: +39 091 956 608
Email: info@solemar-sicilia.it
1. mother tongue: Italian
2. mother tongue: German