Moving independently in Sicily? – No problem!
Car Hire
Sicily has innumerable natural and cultural treasures to discover. From the vibrant artistic hubs of Palermo and Catania to that must-visit trattoria or amazing viewpoint nestled high in the mountains, we promise you'll never be short of inspiration.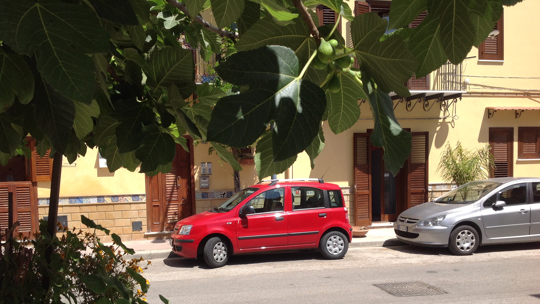 For complete independence and the best chance to take in as many of these sights as you can while you're here, we suggest you consider renting a car. Our friends at the price comparison site Billiger-Mietwagen have exclusive offers for Solemar Sicilia customers.
Please remember that to collect your vehicle you will need a credit card (debit cards are usually not accepted, or carry a requirement to take out a hugely expensive insurance policy), a valid passport or (if applicable) national identity card and, of course, a current driving licence!
As of January 1st 2021, if you are a UK citizen without a European Driving Licence you may be subject to additional requirements. We recommend keeping an eye on https://www.gov.uk/guidance/living-in-italy and double-checking with your rental provider before you travel.
There are numerous car hire companies at the airports in Palermo, Catania and Trapani, as well as some providers in city centres and even small towns (there is one in Cefalù, for example). For a supplement it is usually possible to drop your vehicle off at a different location to where you collected it.
If you need directions, airport tips or any other advice on travelling by road to our accommodation or schools, here's all the information you need for Driving To Us.
Car Hire Price Comparison from Billiger-Mietwagen.de
Why do we recommend this site? Simply put, we have been using them ourselves for years and they are our personal favourites. The prices they find are usually excellent, far lower than the individual suppliers' websites, and booking is easy and clear. They're a German site but your browser should be able to translate if needed.
Would you like to see the best available offers from 'billiger-mietwagen.de'? Please select the
cookie setting
to take a look. You can also make a booking directly at www.billiger-mietwagen.de.
The vehicles they source are usually brand new. If you should need to, additional extras (child seats, GPS navigators etc) can be requested and you will immediately see what the final price will be! So there'll be no nasty surprises at the collection desk… the final price is fixed from the start. Not all brokers guarantee the same transparency! If possible, choose the option "Price-performance Winner" for ultimate value.
Since the local rental companies are usually giving Billiger-Mietwagen every possible discount, their customer service team at the airport counter has often been briefed to give you the "hard sell" on their insurance policies and damage waivers. You can absolutely avoid this and still have peace of mind! If you select the damage protection option from Billiger-Mietwagen, you will be fully refunded in the event of any unfortunate damage fees.
Four Wheels Good, Two Wheels Better?
If you prefer a more sporty mode of transport, we can recommend a very dependable agency in Palermo that specialises in the hire of motorbikes and scooters. Whether you're looking for a street bike, a tourer, a trail bike or just fancy getting around town like a local on the iconic Italian motorino, Sicily Moto Rent has what you're looking for. Why not book with a group of friends and take a trip around the island together in an original and unforgettable way?
If you're stuck for a route, SMR are very happy to help you put together an itinerary that suits your personal interests – be they historical, scenic or (our favourite!) gastronomic. And SMR's online booking offers you the possibility to make all the rental arrangements and plan your trip from the comfort of your home. With all the accessories you could need available for affordable hire, this is the one stop shop for hassle-free bike hire.
All of their motorbikes are in mint condition, constantly maintained to the highest standards and technically perfect: We can recommend Sicily Moto Rent without any hesitation. If you need further information or testimonials, just write to us at [email protected]. But don't just take our word for it: in 2012, the ADAC (Allgemeiner Deutscher Automobil-Club; Germany's answer to the AA/RAC and Europe's largest motoring association) tested 62 motorbike rental agencies around the Mediterranean. While most of their findings were less than complimentary, Sicily Moto Rent was the clear winner of the Sicilian tests, and received a ringing endorsement!
It's worth bearing in mind that motorbike rentals in Italy do not offer the option of fully-comprehensive insurance, but there is always an excess of €1,450 in case of theft (which, we should add, has never happened to any of our customers so far).

Bicycle rental
Did you know that the legendary Vincenzo Nibali, winner of the 2014 Tour de France and three other Grand Tours, comes from Messina and learned his craft on the roads of our island? Or that the first predecessor of the famous Giro d'Italia race was the Giro di Sicilia, first organised here in 1907?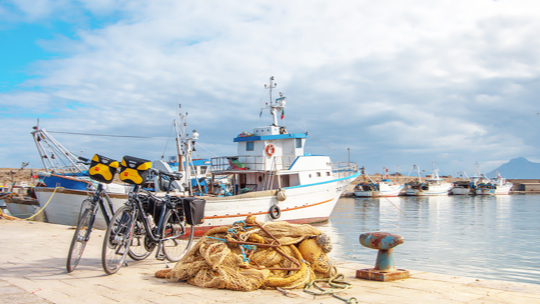 Of course, riding in Sicily isn't just the preserve of the professionals – and with plenty of coastline to explore as well as the mountainous interior, it certainly doesn't have to be as gruelling as their routes! Whether you're looking for an environmentally-friendly way to discover our homeland, feel like leaving the beaten track behind and trying some of the trails in the Madonie or Nebrodi hills, or after a sporty break that gives you the excuse to try all the local food, why not try a cycling holiday?
This needn't mean the costs and risk of trusting your own bike to the airport's baggage handlers, you can also rent a good touring bike from Solemar Sicilia.
You can find a wealth of great local tips on this subject from our good friends at Trip Tipp on this page. And if you are interested in a guided mountain bike tour or specialist racing and mountain bike rentals, there are great offers to be found online. And we're always available to help you plan and organise your very own 'Tour of Sicily'.
The bike hire we offer is catered more to our guests in Santa Flavia and Cefalù, who aren't setting off around the entire island but want to explore the surrounding town and countryside on a practical, safe and comfortable bike. All of our machines are good as new and regularly serviced.
We can provide a secure storage space and sturdy lock. Please book in advance to guarantee availability!
Weekly hire of a good mountain bike, including saddle bags is €50, with a refundable deposit of €100.
We also have a limited supply of 'E-Bikes' with a battery motor to make getting up those hills as easy as coasting down them. Weekly hire is €60, Daily rent is €12.50, and the refundable deposit is €150.
Your contact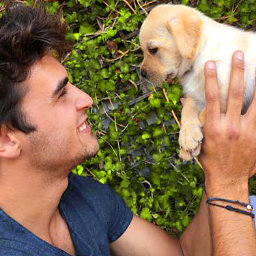 Fabian Gruessner
Tel: +39 091 956 608
Email: [email protected]
1. mother tongue: Italian
2. mother tongue: German